The Dolphin Reef Eilat, Israel, offers a unique chance to observe the impressive social life and the striking behavioural accomplishments of bottlenose dolphins (Tursiops truncatus). A mixed group of ten dolphins, containing individuals of both sexes and all age classes, of which six were born here in Eilat, shows a big repertoire of social interactions. The dolphins are living together year round in a spacious area in the Red Sea (about 14,000 square meters). The area itself is made up of a diverse array of environments, reaching from the shallow beach zone to a depth of 15 meters, including sandy bottoms, seagrass beds and coral reef societies with a great variety of coral fishes, nudibranchs, giant mussels, and even sea turtles that are visiting us from time to time. Under these exceptional conditions, the dolphins were able to establish a well-structured social network, with sophisticated interaction patterns between all individuals. Besides this, a very special dolphin-human bond has developed over the years. This relationship is integrated in a program called 'Supportive Experience with the Aid of Dolphins' for children suffering from various mental and physical problems.
Dolphin Reef is hosting a scientific research facility that deals with various aspects of dolphin behaviour and communication, named the 'International Laboratory for Dolphin Behaviour Research'. The work of the lab is strictly non-invasive, meaning that no experiments are carried out here that could possibly harm or harass the animals. For about a decade now, the members of the laboratory are offering an educational course that includes an introduction to the biology of dolphins and their conservation, as well as dolphin-human interaction, the latter especially in the context of the dolphin-assisted therapy.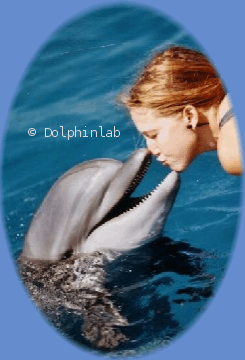 The course will be carried out over a period of seven days (about 50 hours). The next will be:
Course #27 December 09 – 15, 2006
You will be introduced to the following topics:
Dolphin behaviour and communication;

Methods of behavioural data sampling and analysis;

Observations of the dolphins from above and under the water;

Marine mammal physiology and ecology;

Dolphin conservation and rehabilitation

Progress and current situation of a unique 'open sea'-program;

Dolphin-human interaction, including dolphin-assisted therapy;

Psychological aspects of therapy with the aid of dolphins;

Case studies from the therapy project in Eilat;

Observations, background and discussions of ongoing therapy sessions.
The course will consist of almost daily observations of therapy sessions in the early morning, seminars and practical sessions scheduled throughout the day, presented by the scientists of the lab as well as invited experts. It is open to all people age 18 and above, with no special prerequisites concerning scientific experience. To ensure individualised instructions, the number of participants is limited. A certificate of attendance will be handed over at the end of the course. A successful participation will be a prerequisite for participation in our internship program offered by the therapy department. Course language is English.